Secure Patented Invisible Settings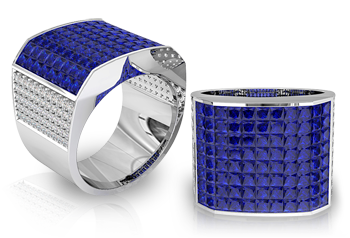 Invisible Settings enable impressive display of an array of stones. Whether presented and set within a ring, a pendant, earrings, or a watch, the Invisible Settings provide a profusion of opulence.
Reine Jewels' Invisible Setting offer a new horizon in jewelry and timepiece settings. The Company's unique technology enables reliable settings in a virtually unlimited range of materials: platinum, gold, silver, titanium, stainless steel, and even plastic. Reine Jewels is currently the only known company to offer this exciting setting technology, that facilitates the setting of semi-precious stones and gemstones, as well as diamonds.
Reine Invisible Setting vs. Existing Invisible Setting
Reine Jewels Invisible Setting
Existing Invisible Setting
Reliability - 100% Secure Setting
Setting Material:
Platinum
Gold
Silver
Titanium
Stainless Steel
Plastic
Setting of Stones:
Diamonds
Semi-precious stones
Change Jewelry size after setting
Extremely Flexible And No Risk
Extremely Limited And Risky
Minimum wastage of stones during setting process
Reduced costs of labour
Overall cost effective
Please contact us
for additional information regarding the Reine Invisible settings technology.