Secure Patented Wonderclik Earrings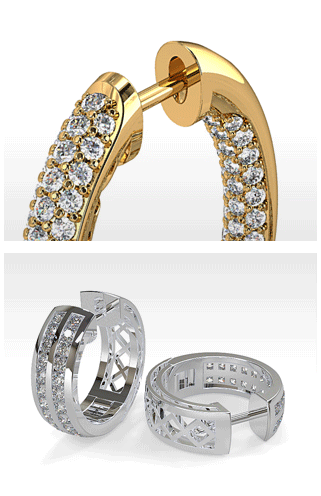 Huggie and hoopstyle earrings are popular items of jewelry worldwide. However, there has been uncertainty surrounding unfastening of the earrings, and possibly falling out, and becoming lost. The need to avoid valuable potential loss from both the clients and the retailers' perspective was paramount in our new secure patented design.
Reine Jewels offers the answer: The Wonderclik - the most secure technology available on the market.
Elegant Solution
Wonderclik technology presents an elegant solution which enhances the earring's design. Our design solution enables the creation of retractable, comfortable earrings without the use of springs in the hinge.
Reliable Design
Wonderclik is a proprietary technology, developed by Reine Jewels. Wonderclik provides elasticity to huggie earrings without the use of springs. If the earring accidentally opens, the Wonderclik technology keeps the ends close together with the help of an exclusive mechanism. This ensures that the earring does not fall off or get lost.
Recent testing results have demonstrated the reliability and endurance of the Wonderclik technology. Withstanding over 30,000 locking clicks, this figure translates into 20 years of opening and closing the earring - virtually a lifetime of carefree Jewelry pleasure.
Reine Jewels provides clients several purchase options:
Complete finished huggie earrings with Wonderclik technology, made to design.
Wonderclik closure mechanism as findings for gold
Wonderclik closure mechanism as findings for silver
Please contact us
for additional information regarding the Wonderclik technology.